Flocked in a frosty coat of white and adorned with shimmering lights, wreaths, and a passionate reverence for time honored tradition and family gathering, few places are as magical during Christmas as Sun Valley. As the streets lined with lights welcome visitors to town and the village teems with festive activities and traditions, the spirit of Christmas is infectious to all who enter.  So come to Sun Valley and rekindle your love for the most wonderful time of the year while bonding with your loved ones and enjoying the skiing and ice skating, caroling and worshiping, dining and shopping–even late night bar hopping.
See what Sun Valley has in store for your family this winter!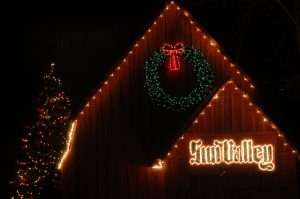 Papoose Club Christmas Bazaar
A fundraiser for the Papoose Club–come out and shop the wares of local artists and craftspeople for unique presents for that person who has everything.
Ketchum Christmas Lighting Ceremony
Join in the start of the Christmas season at Town Square in Ketchum with the lighting of the Town Square, Santa arriving on his traditional fire truck sleigh, and hot cocoa and cider with cookies for everyone!
A Christmas Carol
Holiday fun for the whole family! Come join the tradition.
Tree Lighting Ceremony – Sun Valley Resort | December 15
Featuring Santa, live holiday music, ice carving demo, free cookies & hot cocoa, and no-host outdoor bar. Festivities begin around 5:30pm with Tree Lighting to follow.
Sun Valley Winter Wonderland Ice Show and Christmas Eve Torchlight Parade | December 24
The Sun Valley ice shows are a sight to behold any time of the year, but the Nutcracker on Ice is one spectacle that brings a smile and a warm heart to everyone who attends.  This is truly a time honored family tradition that lets us all know the Christmas is here, while free admission celebrates the giving of the holiday season. Fireworks and a light show of skiers wielding torches down Dollar Mountain is the last thing children for generations have seen before crawling into bed to wait for Santa to arrive in the night.  Free to all!
Gallery Walk | December 28
Each year, the Sun Valley Gallery Association hosts seven gallery walks (exhibition openings for all SVGA galleries), which are eagerly anticipated and free to the public. Locals and visitors alike take in thought-provoking exhibitions of newly installed art, enjoy wine, mingle with friends, and often meet the artists.
Night-Skiing on Dollar | December 31
Hit the slopes to and enjoy some night turns, music under the stars and fireworks. Admission includes skiing and riding on Quarter Dollar, face painting, New Year's Eve party hat decorating, photo booth, bouncy twister and so much more! Ring in the new year with family fun and festivities. 4-9pm
Bubbly Bash | December 31
Welcome in 2019 with fellow supporters of the arts at the New Year's Eve Bubbly Bash, which promises once again to be the valley's most festive holiday celebration. The annual sold-out event benefits the Sun Valley Center for the Arts and is co-hosted by Sun Valley Resort and The Center's Junior Patrons Circle.