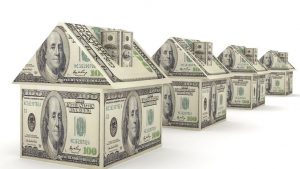 By Julie Miller
Aug 4, 2021
Home prices notched their biggest annual growth since 1979 in June, during an extra-hot summer for real estate, fueled by the ongoing COVID-19 pandemic. Nationally, sale prices shot up 17.2% in June compared with a year ago, according to a recent report from real estate data provider CoreLogic. They rose 2.3% from May.
"When you start hitting historic highs, you wonder how long this is going to go," says Selma Hepp, CoreLogic's deputy chief economist. She estimates that home prices have likely peaked and will grow more slowly for the rest of the year. "Home prices have gotten out of reach for a lot of people." While it's still a seller's market, that doesn't mean buyers should sit it out.
"Interest rates are still low, and home prices will still keep going up even if they level out," Hepp says. Appreciation of single-family, detached homes, like those typical in the suburbs, rose 19.1% in June. That's almost double the 10.7% rise in attached properties, such as townhomes and row houses.
The increase makes sense as buyers have sought out more square footage, outdoor space, and locations where they could socially distance during the pandemic. Buyers have been competing over the limited supply of these detached, single-family homes, which typically offer all of these things, bringing prices up to previously unheard of levels.
Where are home prices rising the fastest?
Prices continue to rise the fastest in the western part of the country, with year-over-year growth in June reaching 34.2% in Idaho, 26.1% in Arizona, and 24.3% in Montana. "These places are affordable," Hepp says, adding that the Rocky Mountain states "have been particularly of interest to people who are now able to work from home and looking for outdoor amenities."
Twin Falls, ID, about two hours southeast of Boise, had the highest year-over-year increase of any locality, at 40.2%. The median list price in Twin Falls was $367,550 in June, according to the most recent Realtor.com® data. Bend, OR, with a median list price of $737,500, came in second, at 35.4%.
"What I hear from out-of-state clients is, they are looking for a better way of life and a place to raise their families," says Nicole Gabiola, owner of Keller Williams Sun Valley. And many who are priced out of Boise, where the median list price was $513,050, "are coming our way."
Local agents say the housing market in Twin Falls has been growing for years and is still hot. But they expect it to start slowing. There were just 30 houses for sale in the spring, says Stan Tobiason, a Realtor® with Super Realty of Idaho. Now there are about 130. "Prices are still crazy, but people have a few more houses to choose from," he says.