It's beginning to look a lot like Christmas in Sun Valley
Fireworks and torchlit parade will ignite the sky on Christmas Eve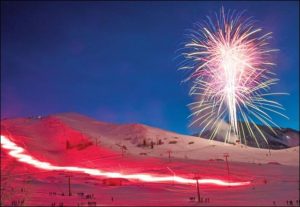 Sun Valley is transforming into a Winter Wonderland before our very eyes. Magical lights twinkle throughout the village. The sound of jingle bells and the smell of gingerbread float through the air.
Sun Valley spokeswoman Jenna Vagias says their series of events will fill even the biggest Scrooge with holiday cheer.
"Our family of employees at Sun Valley Resort are woven into the fabric of our community, and family-friendly events bring generations together for memory-making," Vagias said.
The festivities continue at 7 p.m. on Dec. 17-18 at the Opera House with the Classic Christmas Concert. Tickets cost $25 and are available at the Guest Center in the Sun Valley Village, or at sunvalley.com.
"Nothing evokes the spirit of the holidays like music," Vagias said. "Where better than the historic Sun Valley Opera House to enjoy a wonderful evening of carols old and new, storytelling, and more?"
Performers include Aly Wepplo, Andrew Alburger, Andrew Garratt, Teddy Cunningham, John Mauldin, Melodie Taylor-Mauldin, with special guests The Beverly Lovers and Colla Voce. Taylor-Mauldin directs, with R.L. Rowsey taking on the music.